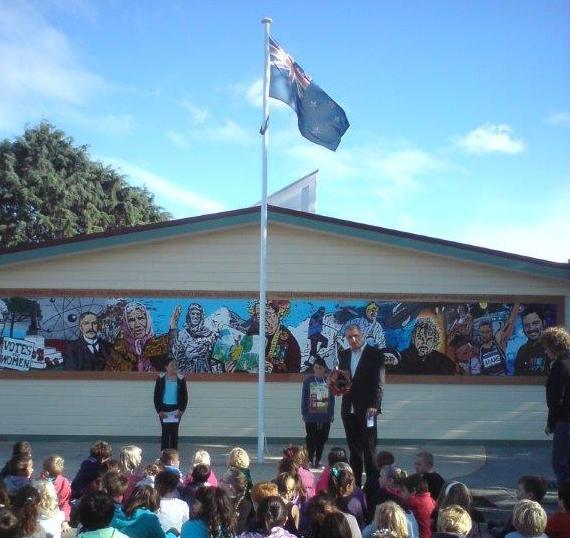 During 2012, as part of a schoolwide Inquiry Learning, students identified inspirational New Zealanders who have lived, or currently live our 'Language of Learning' words. This culminated in classes voting and deciding on which people would be part of our Inspiration Wall. A gifted and talented project enabled students to work with adult artists, to create our very special mural. In 2013 the mural was unveiled by our local mayor.
The inspirational New Zealanders identified were Kate Sheppard, Ernest Rutherford, Dame Whina Cooper, Sir Edmund Hillary, Jean Batten, Sir Peter Blake, Mark Inglis, the All Blacks, Sir Peter Jackson, Bic Runga, Valerie Adams and Sir Willie Apiata.
These inspiring people represent social justice, sport, education, the armed corps, music, film, literature and adventurous exploration. Māori, European, Pasifika and Asian peoples are represented.
Not everyone will be a top sportsperson, acclaimed doctor, brilliant mechanic, stunning teacher, accomplished plumber, highly capable farmer, talented lawyer, compassionate and capable nurse …… yet everyone can succeed and be their best. While reading, writing and mathematics are important, of far more importance are Curiosity, Collaboration, Resilience, Creativity, Excellence, Perseverance and Reflection. These inclinations and habits underpin and support all the learning that we do. Over time, if students come to understand that even though they may find reading hard or mathematics tricky, the really important learning is to live these words.
We have observed that once learners understand this, they are empowered to reach for the stars and become their very best.