Te Reo and Tikanga Maori
As our hall panels express, we celebrate and nurture all peoples within Aotearoa New Zealand. Our first hall panels represent the place of Maori as tangata whenua within our country. We celebrate and nurture Maori language and customs in a variety of ways. All teachers endeavour to use te reo Maori within their classroom programmes as much as they are personally able to do so. This is generally in the form of instructions, compliments, numbers, colours and simple phrases. School assemblies mostly include Maori songs. At staff meetings teachers have regular te reo learning opportunities.
Within students' learning programmes, dimensions that incorporate a Maori perspective are often included. Each year our school visits a place of special cultural significance within our community. Over the last number of years we have visited Raukawa Marae, Rangiatea Church, Pukekaraka Marae, Tainui Marae, Katihiku Marae and Te Waananga-o-Raukawa. We are formally welcomed onto these special places with a powhiri. Each year, thanks to the generosity of our Home and School Association, all Year 5 students get to learn about and visit Kapiti Island.
When groups of visitors come to visit our school we welcome them with a powhiri.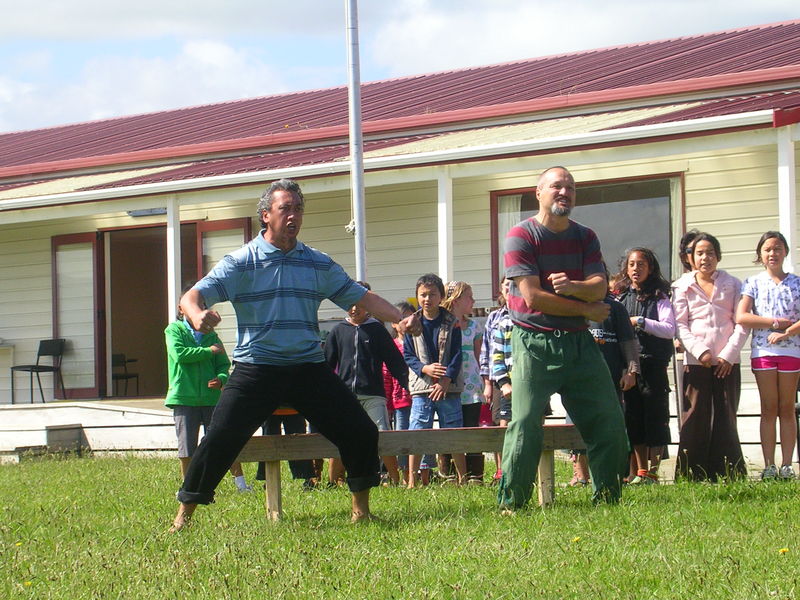 Kapa Haka
At kapa haka, students learn Maori waiata and movements to these waiata.
In term one of each year, all students are able to experience and enjoy kapa haka. Kapa haka is generally held each Thursday afternoon in the school hall. It begins with junior kapa haka followed by senior kapa haka. Matua Willie Manuel has been our kapa haka tutor for the last 6 years. He is awesome.
Towards the end of term two, our performance kapa haka group is formed. All students are welcome to be part of this. This group works together each Thursday afternoon to learn and practise a 10 minute kapa haka performance. There is a lot of work involved and by being part of this group students exhibit many of the qualities we highlight within our language of learning.
At the end of term three or early in term four, our performance group attends the Otaki-Kapiti Kapa Haka Festival. Each year this festival is hosted by a different Otaki-Kapiti primary school. It is a very special day and a real celebration and highlight for students who perform, and for their parents and teachers, who see them shine.

At our end of year assembly, our school gets to enjoy and thank our kapa haka group for all their hard work. It is always special to see our students perform.